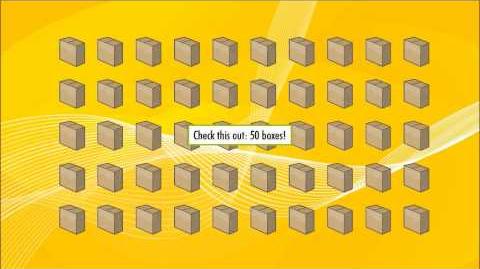 "50 Boxes" is the very first installment of BFMT/C. It featured 20 contestants on two teams. The first episode was released on May 22, 2013.
Contestants & Numbers
Edit
When signing up, each contestant was required to pick a 3-digit number (100-999). The two users closest to the actual number (276) became team captains.
Firey (thawesomecoolstuff1): 303
Bubble (NukriKiladzeTER): 340
Blocky (friesfan7844): 354
Snowball (TardisTheTardis): 371
Donut (Mewcakes): 413
Match (Tacoburger22): 111
Pen (TheRedBreloom): 102
Leafy (oguzkan1200Alt2): 455
Coiny (TheOnlyBoxThatSubs): 462
Eraser (Fobbyiyg): 481
Ice Cube (gwenandcody29): 556
Ruby (sylroxx1): 563
Flower (Retro Guy): 666
Needle (475thunder): 793
Pencil (Ben1178): 846
Golf Ball (goldenzoomi): 860
Tennis Ball (KirbyRider1337): 900
Gelatin (battim): 962
Book (zmanracer): 982
Puffball (thekristenjokes): 999
Contestants in bold were on the Sour Lemons. Italicized contestants were on the Sweet Blueberries.
Challenge
Edit
The first challenge was to pick 3 of 50 boxes. Each box had a different point total inside of it. If multiple contestants chose the same box, the points inside of it were evenly split. There were also two tokens hidden within the field of boxes.
Did not participate: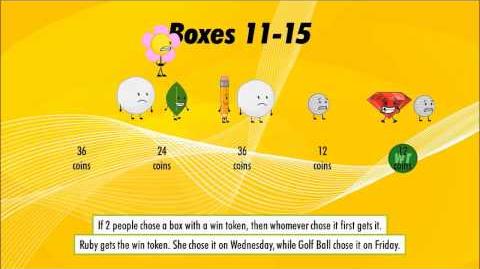 Blocky
Donut
Pen
Bubble
Gelatin
Book
Individual Scores:
Puffball: 132
Needle: 120
Ruby: 102
Tennis Ball: 90
Firey: 84
Match: 84
Ice Cube: 80
Flower: 76
Eraser: 72
Coiny: 72
Pencil: 60
Snowball: 50
Golf Ball: 48
Leafy: 46
Blocky: 0
Donut: 0
Pen: 0
Bubble: 0
Gelatin: 0
Book: 0
Team Scores:
Sour Lemons: 488
Sweet Blueberries: 628
The Sour Lemons lost the challenge.
The following contestants were put up for elimination:
Firey
Blocky
Snowball
Donut
Match
Pen
Leafy
Coiny
Eraser
Ice Cube
The voting was set to end May 29, 2013.