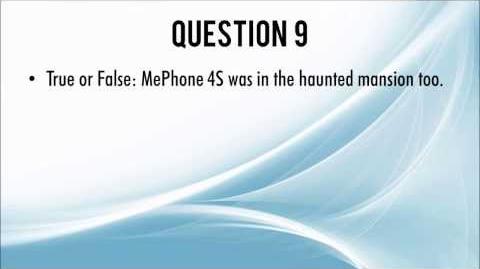 "Inanimate Quizsanity" is the eighth installment of Battle For Magic City, and the fourth by Retro Guy.
Elimination
Edit
Likes:
Needle: 16 (IT)
Badge: 10
Yin-Yang: 7
Ping Pong Ball: 1
Dislikes:
Needle: 3 (WT = 1.5)
Badge: 9
Yin-Yang: 10
Ping Pong Ball: 11
TOTALS:
Needle: (-14.5)
Badge: (-1)
Yin-Yang: 3
Ping Pong Ball: 10
Ping Pong Ball was eliminated with 1 like and 11 dislikes.
Likes:
Book: 13 (WT)
Soccer Ball: 12
Boombox: 6
Globe: 4
Dislikes:
Soccer Ball: 4
Boombox: 6
Globe: 11
Book: 13
TOTALS:
Soccer Ball: (-8)
Boombox: 0
Book: 0
Globe: 7
Globe was eliminated with 4 likes and 11 dislikes.
Likes:
Coiny: 12 (IT)
Marble: 9
Asthma Inhaler: 8
Soap: 7
Dislikes:
Coiny: 4 (WT = 2)
Marble: 6
Asthma Inhaler: 8
Soap: 17
TOTALS: 
Coiny: (-10)
Marble: (-3)
Asthma Inhaler: 0
Soap: 10
Soap was eliminated with 7 likes and 17 dislikes. She quit anyways.
Challenge
Edit
The eighth challenge was a quiz on the sixth episode of a popular object show, "Inanimate Insanity". There were ten questions and a bonus (due to a revision in the test).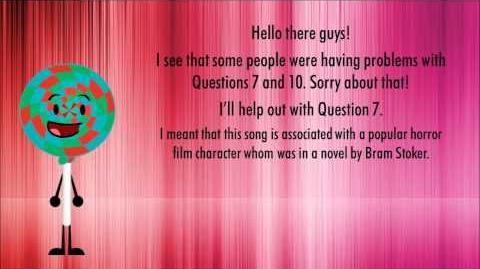 1. What was the name of the song the music box played? (Answer: "Pop Goes the Weasel")
2. Who did the voice of MePhone 5S? (Answer: Isaac Suh)
3. What was the last headline on Lightbulb's newspaper? (Answer: "YIN YANG ELIMINATED")
4. Name the three Pixar references in [Episode 6]. (Answer: Door [Monsters, Inc.], Toy Ball [Toy Story], and the lamp [Intro to all Pixar movies])
5. Where does Box appear in [Episode 6]? (Answer: 15:38-ish)
6. One of the producers' "OCs" appears at 15:47. What is this OCs name? (Answer: Chandelierey)
7. What is the name of "Super-Duper-Mega-Whopper Scary Tune #483"? (Answer: Toccata and Fugue in D Minor, by Bach)
8. True or False: Bow has an actual instagram account. (Answer: True; "bowofcoolness")
9. True or False: MePhone 4S was in the haunted mansion too. (Answer: True)
10A. What was Bow's last line in the whole episode? (Answer: "Who are you?")
10B. Who is likely to be eliminated, and why? (Answer: Apple; she was possessed by Bow to break her friendship with Marshmallow)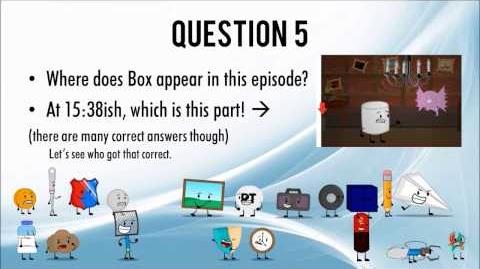 Reversal Token: 9/10 +1 (WT)
Sunglasses: 9/10 +1 (WT)
Milk: 8/10
Picture: 6/10
Casey: 5/10 +1
Tetris: 5/10
Yin-Yang: XQZ'd
Suitcase: 8/10 +1
Badge: 7/10
Needle: 6/10
Whistle: DNP
Dusty: 10/10 +1 (IT)
USB: 9/10 +1 (WT)
Portal Gun: 8/10
Test Tube: 7/10
Disc: 7/10
Book: DNP
Soccer Ball: XQZ'd
Clock: 9/10 +1 (WT)
Golf Ball: 8/10
Boombox: 8/10
Crayon: 5/10 +1
Masky: 8/10 +1
Coiny: 8/10 +1
Marble: 8/10 +1
Kite: 6/10 +1
Asthma Inhaler: DNP
Patchouli
Edit
Paper Airplane: 9/10 +1 (WT)
Fly Swat: 9/10 +1 (WT)
Pencil: 6/10 +1
Propeller Hat: 6/10 +1
Toothy: 5/10
Cheesy: DNP
Final Results
Edit
Reimu: 75% [5th]
Marisa: 55% [6th]
Sakuya: 88% [1st]
Sanae: 80% [3rd]
Yuyuko: 85% [2nd]
Patchouli: 78% [4th]
Milk
Casey
Picture
Tetris
Suitcase
Badge
Needle
Whistle (DNP)
Patchouli
Edit
Pencil
Propeller Hat
Toothy
Cheesy (DNP)
Voting was set to end Feb. 9, 2014.
Ad blocker interference detected!
Wikia is a free-to-use site that makes money from advertising. We have a modified experience for viewers using ad blockers

Wikia is not accessible if you've made further modifications. Remove the custom ad blocker rule(s) and the page will load as expected.